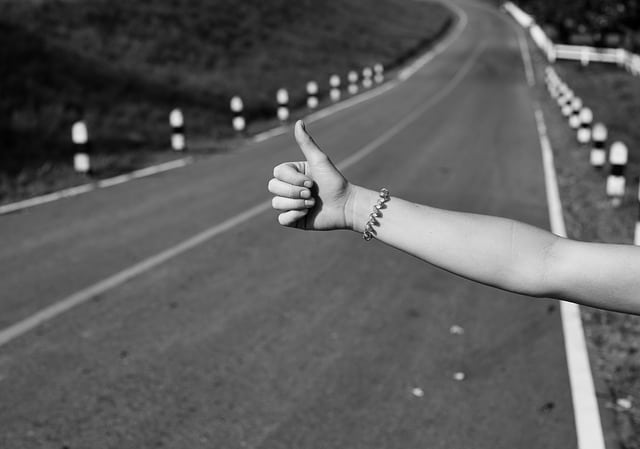 Let's suppose you're on a relaxing Caribbean cruise.
The ship docks in port on St Maarten, a lovely, warm, friendly Caribbean island.
You haven't booked one of the ship's excursions because you know that just outside the port is an abundance of taxis which will take you anywhere you like for much less than the ship would charge.
"How much to Maho Beach?" you ask the cheerful taxi driver.
With the price agreed, you both get into the taxi and off you go.
Now Maho Beach is on the other side of the island – on the Dutch side.
It's famous – and very popular – because the airport is adjacent to the beach…
So planes fly very low over the beach. And the force of the jets, when the planes take off, is enough to blow people into the sea.
You've probably seen the YouTube videos.
It's a long journey to Maho Beach. But eventually, you arrive there.
"Will you pick us up around 4pm, please?
"Our ship leaves at 5pm and we mustn't be late"
"No problem at all," says the taxi driver, with a cheerful smile…
"I'll be there for you."
Where's The Taxi?
You're working out what happens, aren't you?
This event happened to a couple on our cruise.
And you guessed it…
The taxi driver didn't turn up to drive them back to the ship.
After a worrying wait, the couple went in search of another taxi that would be able to take them to the ship.

Where Are The Passengers?
Meanwhile, back on the cruise ship, regular announcements were being made over the PA system.
I can't remember their names now – so let's call them Mr and Mrs Smith.
Would Mr and Mrs Smith please telephone Reception and confirm you're on board.
Now, it was on our very first cruise – so we hadn't experienced anything like this before. What was going to happen?
We'd been warned that a cruise ship won't wait for you if you're late back – unless you're on one of their own organised tours.
Time was moving on. But the ship wasn't.
Eventually, we heard the Captain's voice, speaking directly into the cabins:
Ladies and Gentleman… I'm afraid two passengers haven't made it back to the ship. We're unable to stay in port any longer. So we've deposited the couple's passports with the Port Authorities, and we'll be on our way shortly.
"Oh dear," I said to Christine. "Sounds like a general warning for us all."
Sombre Mood
As we stood on deck with other passengers, of course, it was the topic of conversation.
"It's going to be expensive to fly to the next island."
"Yes, and we're at sea tomorrow, too."
"I hope they're good swimmers," someone quipped.
We kept watching in hope.
Hope at Last
After we'd sailed a short distance out to sea, the Captain made another announcement.
The couple had turned up at the port.
And the Port's Pilot Boat was giving them a lift to the ship.
You can imagine the cheering and clapping as the little pilot boat came alongside. And the sheepish looks of embarrassment from the couple.
At the time, I had no idea that the Port Authority would be likely to charge a significant sum for the "lift back to the ship".
But last week, I had my eyes opened.
You see, I told this story in one of our weekly Cruise Chat emails.
What? You don't subscribe to our emails? 
Head over here to sign up, and I'll see you back in a couple of minutes…
You're back? Good…
An Expensive Rescue
We received a lovely reply from one of our readers, Sue from Canada, who's chalked up an incredible 65 cruises and has seen a few similar circumstances.
Sue wrote…
Were you aware also, that a charge can often be required to be paid to the company operating the Pilot Boat for the short boat ride?

My husband & I have known of this to occur more often than not when such a scenario happens.

Twice it happened that we had befriended couples who this exact scenario happened to — and they had to pay a very hefty fee to the Pilot Boat company for their short boat ride.

We've also sailed where passengers came by helicopter to the ship & were lowered on to the top deck of the ship. That cost them a bundle all right!
So I can imagine Mr & Mrs Smith's cheap taxi to the other side of the island probably ended up costing them significantly more than the excursion.
But had that short boat-trip not been possible…
Maybe…
A helicopter? (Where can you find one of those in a hurry? And how much do they cost?)

A private jet? (I'm not even thinking about the cost of the mortgage to hire one of those).

How to Avoid Being Left Behind on a Cruise
So, what can you do to make sure that doesn't happen to you?
The safest way is to go only on the ship's own organised excursions – at least on your first cruise. The ship will wait if there's a delay.

Or explore locally – within walking distance – so it's easy to return to the ship in time.

If you do decide to do your own thing, plan to get back to the ship ultra early. After all, lots of delays can happen on your return journey. A flat tyre, a diversion, traffic jams…
Free Cruise Ship Excursions?
A few luxury cruise lines offer inclusive excursions.
But, obviously, those benefits are included in the price tag.
If you want to play it safe, however, and use the ship's tours so you don't miss the boat, this seems to be a bargain way to do that. 
Your Cruise Ship Experience?
What about you?
Have you ever missed your cruise ship?
Do you know someone who did?
What happened?
Do share the story in the comments box below.
We'd love to read it, heed the warnings, and stay safe.