"Where should we go on our first cruise, then, David?"
I'm not used to sudden questions like this. So I stop and think. 
Prefer to listen instead?

Listen & subscribe on Apple, Spotify or Anchor
Our friends had told us they wanted to go on a cruise, so we'd invited them round.
"Join us for supper. You can ask us anything," we'd said.
But this question comes out of the blue.
Where's the best place to go on your first cruise? That's what some friends asked David & Christine from HowToCruise. So here's the recommendation - and the reason why. #cruise
Click To Tweet
So I put down the glass of wine and decide how I should answer Elizabeth's great question.
Should I suggest the warm Mediterranean and its picturesque towns?
Should I tell her about the beautiful Fjords?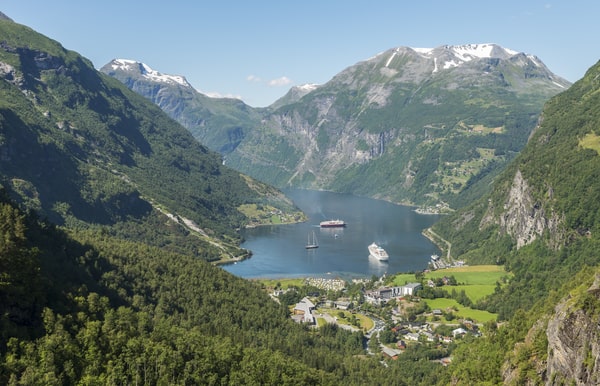 What about seeing the Northern Lights?
A Baltic cruise, maybe?
Go To The Caribbean!
"I think a Caribbean cruise would suit you best," I decide, finally.

"Oh? Why?" asked her husband, Michael.
"Because…"
My mind goes back to our first cruise, and I remember the warm Caribbean air that met us as we stepped off the plane in Barbados.
I recall waking up at a different island each day, and spending the beautifully warm days exploring.
Steel-band music begins to play in my imagination.
And I picture the soft sandy beaches, the pelicans, the geckos…
"Because you can leave cold wintery England behind, and immediately be in a lovely warm climate.
"Because you'll visit lots of different islands, with very few days at sea.
"Because, from our experience, there seems to be more price bargains to be found when you book a Caribbean cruise.
"Oh, and did we tell you that we could hardly feel the movement of the ship in the calm Caribbean sea?"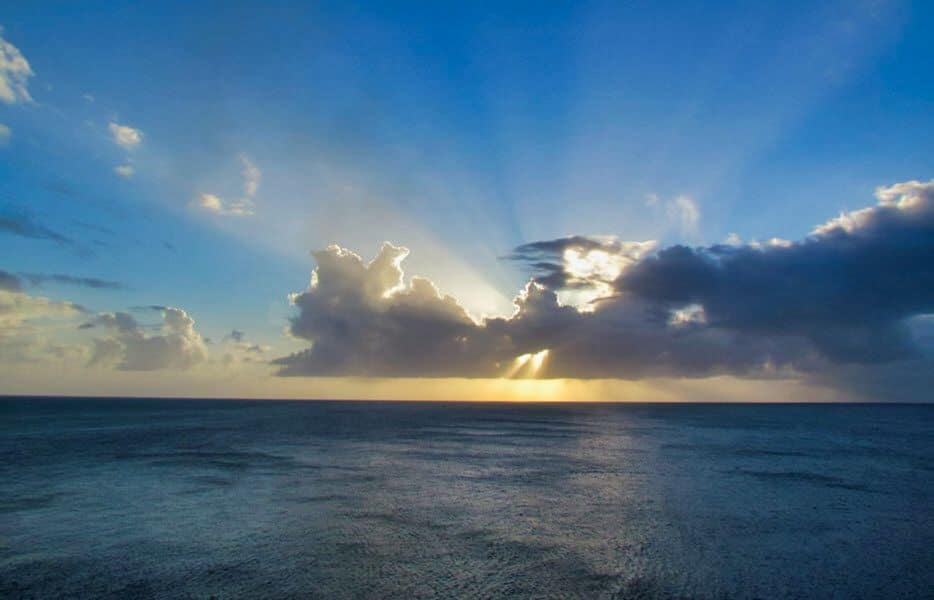 There's a look of delight on Elizabeth's face.
"Is that where you went on your first cruise?" she asks.
"Yeah. And we've returned a few times. So much to see and do."
I show them our photo of Grand Turk.
"Yes, the ship really does 'park up' that close to the beach. It's just like I imagine Paradise to be like."
We chat a bit more about things like life onboard the ship: the dining, entertainment, activities…
And why we choose to book directly with a cruise company – but via a cashback website to save money.
As they leave with lots of ideas and excitement, we offer one last bit of advice:
"Take your time, ask lots of questions, decide exactly what you're looking for, and get the best price."
Waving them goodbye, Christine turns to me and whispers: "You know what… I think they'll absolutely love the Caribbean. It certainly has that extra bit of magic."
Your First Cruise
What about you?
Where would you recommend for a first cruise? 
Please do share it with us in the comments box below.
Let's keep the conversation going. 
Where's the best place to go for your first cruise? David and Christine from HowToCruise suggest the Caribbean - and this is why... #cruise #caribbean
Click To Tweet
Now listen with a Caribbean music background

Listen & subscribe on Apple, Spotify or Anchor
Lots More Cruise Tips
Don't be left wondering what makes a great cruise.
Read our free cruise guide and weekly emails. 
And then plan your cruise of a lifetime.