Hello!
You're probably wondering who's behind the How To Cruise website.
Well, please allow us to introduce ourselves.
We're David and Christine Withington from Lancashire in England. An ordinary couple with two grown up children.
Why a cruise?
We went on our very first cruise in March 2012 to celebrate our silver wedding anniversary.
Many friends had told us about the cruises they'd enjoyed. But we never realised how amazing cruising really was – until we experienced it first hand.
The photograph at the top of the page was taken in Azura's atrium, somewhere in the Caribbean, on our very first cruise.
We don't dress like this every day. But on a cruise, it's a great excuse to do so.
Since that day, we've been on a few other cruises.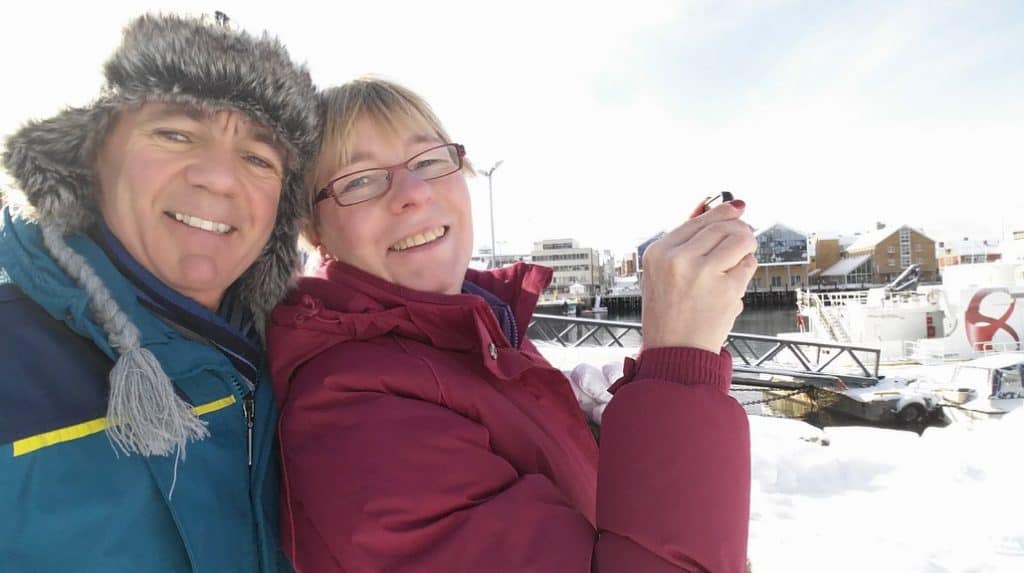 And every one has been different. Different places, different ships, different experiences.
And we've learned a few things along the way – such as how to get the best from a cruise – and how to get the best prices too.
Within the website, we share these sort of things with you.
And we try to help you want to experience the magic of going on your first cruise.
We're practical people. So this is a practical website. We hope you get lots of useful information from it that you can apply when you go on your first cruise.
So if you're thinking about a cruise and want some insight into what cruising's about, we suggest you start right here…