Hello!
You're probably wondering who's behind the How To Cruise website.
That's us in the photo just above… David and Christine Withington.
We don't usually dress up like that, but when you get the opportunity on a cruise…
We live in Lancashire (if you're unfamiliar with the British geography, that's in North West England) where there's plenty of rain…
Which makes you want to get away on a cruise!
Why "How To Cruise"?
Our very first cruise was in March 2012. 
It was to celebrate our silver wedding anniversary (yeah, that came round quickly too).
Many friends had told us about the cruises they'd enjoyed. So we thought we'd give it a go.
Actually, what happened was this…
A few years before the event, Christine (my wife) said to me (David):
"Err… I'd like to go on a cruise for our Silver Wedding"
"OK, Luv…" I replied.
And then I began to wonder where we'd go on the cruise… which company to pick… and most important of all, how much would it all cost!
So I opened a savings account and drip-fed into that every month – until it was time to book our first cruise.
Our First Cruise
The photograph at the top of the page was taken in Azura's atrium, somewhere in the Caribbean, on our very first cruise.
We don't dress like this every day. But on a cruise, it's a great excuse to do so.
It's true, you can get addicted to cruising!
We certainly did!
And since that day, we've been on a few other cruises
Such as this one in Norway, on one rather cold, crisp March.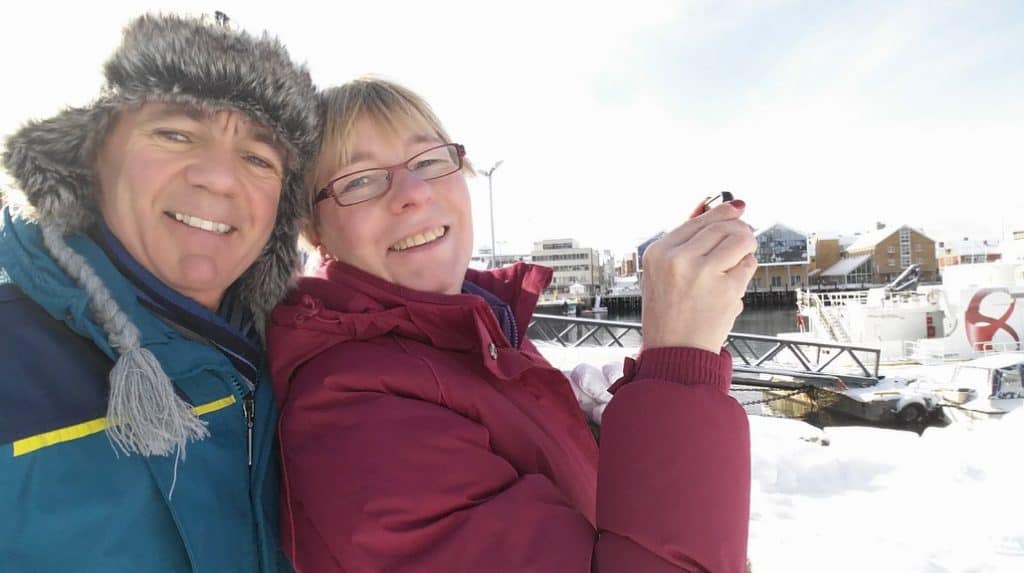 Every single cruise has been different.
Different places, different ships, different experiences.
And we've learned a few things along the way – such as
how to get good cruise deals

how to get extra onboard credit for free

which sort of cabin is the best value
Within the website, we share these sort of things with you.
We're practical people. 
So this is a practical website. 
We hope you get lots of useful information from it that you can apply when you go on your first cruise.
Mini Cruise Guide
We've even condensed the essentials into a mini cruise guide which we'd love to send to your with our compliments and keep in touch with you with our weekly cruise chat emails:
New To Cruising?
Anyway… if you're where we were back in 2012 (wondering what's really involved in going on a cruise), we suggest you start right here and find out all you should need to know about going on your first cruise, from the experiences of this British couple who learned the hard way…