On most cruise ships, a wide choice of performances and shows provide lots of entertainment throughout the evening, and some through the day too.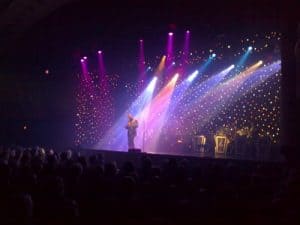 So what sort of entertainment?
Maybe a variety show within the theatre. Or…
a comedian

a magician

a singer

a classical musician

a tribute act
How about ballroom dancing?
In fact, after a few nights of going from one entertainment venue to another, you may even decide that there is a limit to how much live entertainment one can take in.
So why not have a bottle of wine delivered to your room and watch a film on the ship's TV.
During days at sea, you're likely to find talks and lectures on all kinds of topics such as
seabirds

precious stones

shopping

real life murder mysteries

interviews

talks about the ports you'll visit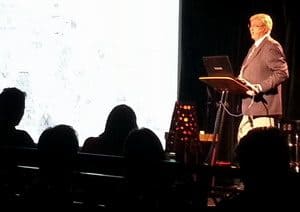 How about lectures and talks from retired police superintendents, film directors and stuntmen, art specialists, TV celebrities.
The list goes on.
For example, we have enjoyed fascinating talks on subjects as diverse as how stunts are created in films, and the future of the UK property market.
There are
libraries

internet rooms

dance classes

bridge games

ship tours

demonstrations
If you like to work out, there's the gym. 
And if you like to gamble, there's even a casino on many ships.
Or maybe simply sit on your balcony or on deck, enjoying the fresh air and admiring the view or reading a good book.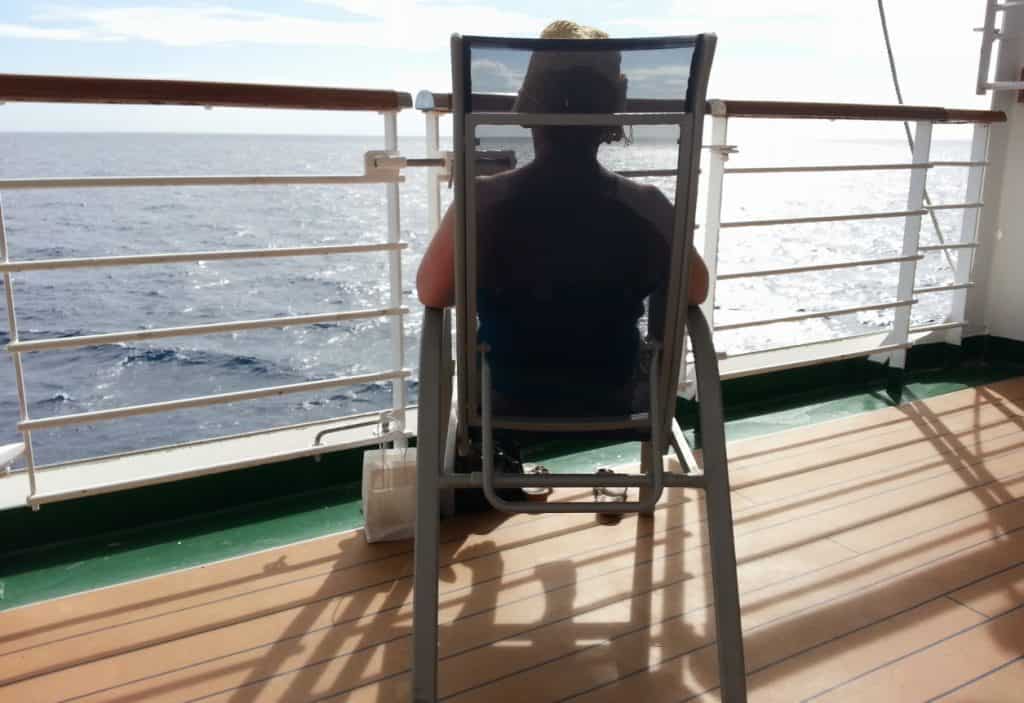 Leaving a port can be a wonderful entertainment event in itself. 
Here's a short video of a "Great British Sailaway" party as the P&O Ventura departed from a Caribbean island on a warm sunny evening…
The Sailaway Party on Ventura
But if partying isn't your scene, perhaps West End style shows are.
In this short video interview with Peter from Lancashire, I ask him "What, in your opinion, is so special about the entertainment on a cruise ship?"
Peter's Thoughts on Cruise Entertainment
On the smaller Hurtigruten cruise ship, evening entertainment was a chat in the bar with new friends we'd made on the cruise.
Some evenings were spent reading a good book.
I spent some time writing a number of emails for our Cruise Chat newsletters (you can subscribe to Cruise Chat here).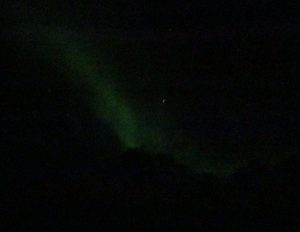 On some nights we saw the Northern Lights – a photo opportunity not to be missed!
An early night on an Hurtigruten cruise ship allows you to wake before the dawn and hop ashore for 10 minutes whilst the ship delivers supplies to remote snow-covered villages.
Here's a bit more about cruise activities: