If you love good food, you'll love a cruise.
The dining experience is an event to be remembered.
Dinner
The food on board a cruise liner is something special.
You can dine at the same table with the same people each evening. Many lasting friendships have been made this way.
Alternatively, freedom dining allows you to eat whenever you like, with different people each evening – or on your own if you prefer.
Often you can choose to visit a different restaurant – and there are often many different styles of restaurant to choose from.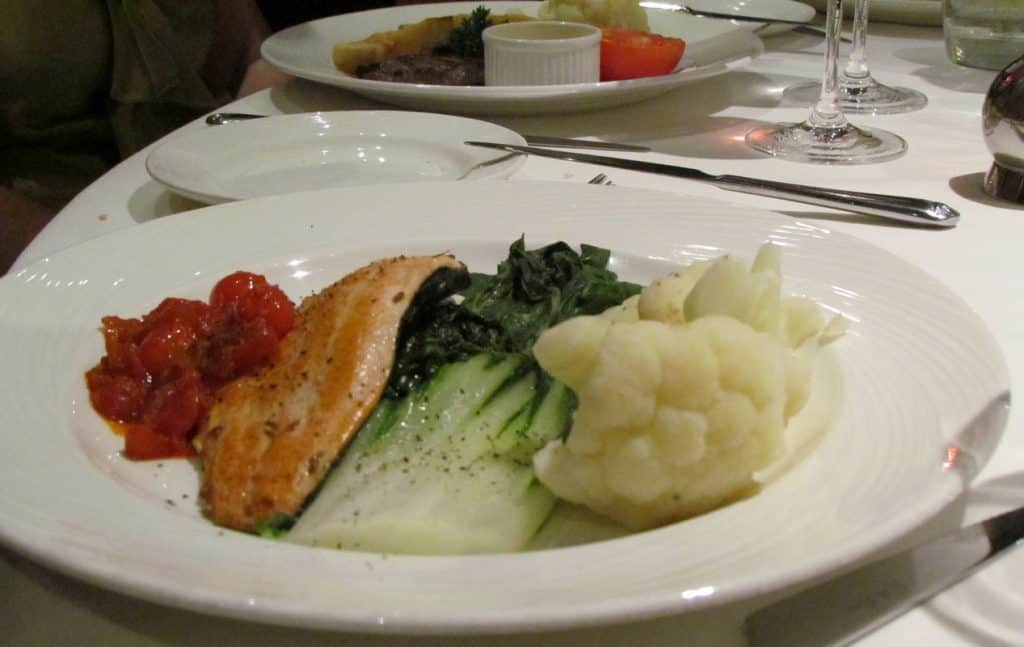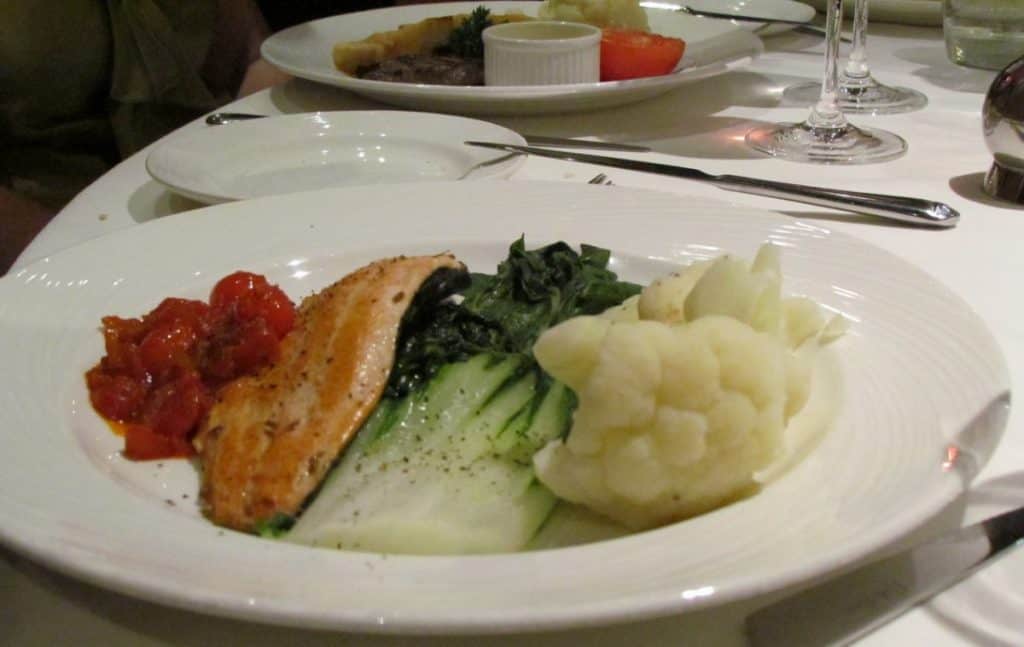 Normally all the usual meals are included in the price of the cruise.
Many ships also have speciality restaurants. And for a reasonable cover charge, you could choose to upgrade on an evening or two, perhaps to celebrate a special occasion. More on these later.
Cruise Breakfast, Lunch, and Afternoon Tea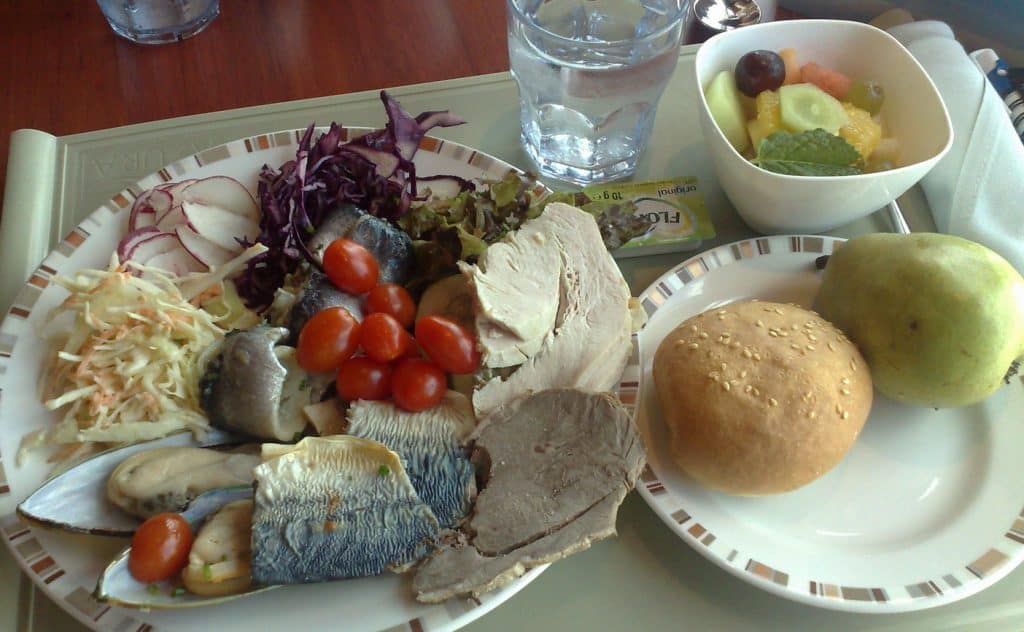 What a choice! These were often the highlights of our first cruise. There was a wide choice of quality food and environment, whether in a waiter served restaurant or a self-service buffet restaurant.
Your Waiter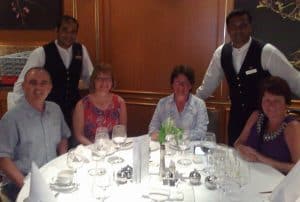 Your waiter, particularly if you opt for the traditional club dining service, will quickly get to know what you like and provide excellent service. Many waiters rely on tips at the end of the cruise and this works well in ensuring the most attentive of service during the cruise.
Our Experience
So what did we make of the restaurants on our first and subsequent cruises? And how was the food?
For us, the whole experience was incredible. We loved the dining.
Our waiters were attentive and friendly. And of course, they were well accustomed to having requests to take photographs of the guests around the dining table!
On our first cruise, we sat at the same table at the same time each evening (apart from the day of arrival when everyone was settling in). It may sound boring – being restricted to when you dine – but it actually worked really well.
On that occasion, we shared a table with two sisters. We had the whole table to ourselves and enjoyed great conversation.
Our second cruise found us on a large 10 seater table where we met lots of people with interesting roles such as farmers, a timber importer, a retired policeman, and a dentist. Again, lots of good conversations.
On other cruises, we had the freedom dining. The advantage of this style of dining was we could meet different people every evening. And we could choose what time we dined.
That was the evening meal. But for the other meals, we varied between going to waiter service restaurants and buffet restaurants. It was great to have the choice.
The food was always well prepared and delicious. For breakfast, often we feasted on lots of fruit; various types of exotic and traditional fruit were available. Of course, there were the usual fried breakfasts, cereals, and everything in between.
The varieties of fish, meat, salad and vegetables which were available for lunch was also incredible. Needless to say, we enjoyed those too.
And of course, on P&O's ships, we couldn't resist the occasional afternoon tea with finely cut sandwiches. A very British institution.
Speciality Restaurants on the Ship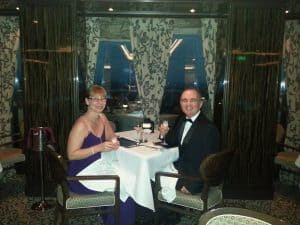 One evening, we booked a table in one of the ship's speciality restaurants. It's the sort of restaurant they tell me you can expect to pay over £100 per head – but here there was a cover charge of £26 per head (the actual charge can vary, depending on which speciality restaurant you choose, from a few pounds upwards).
Even though we'd enjoyed the excellent food and service throughout the cruise, this speciality restaurant moved it up another notch.
Cruise Room Service
We tried room service a few times. The food and service were to a decent standard. Most of the items available for room service were free; others had a small charge. When we ordered a bottle of wine, the price was added to our onboard account.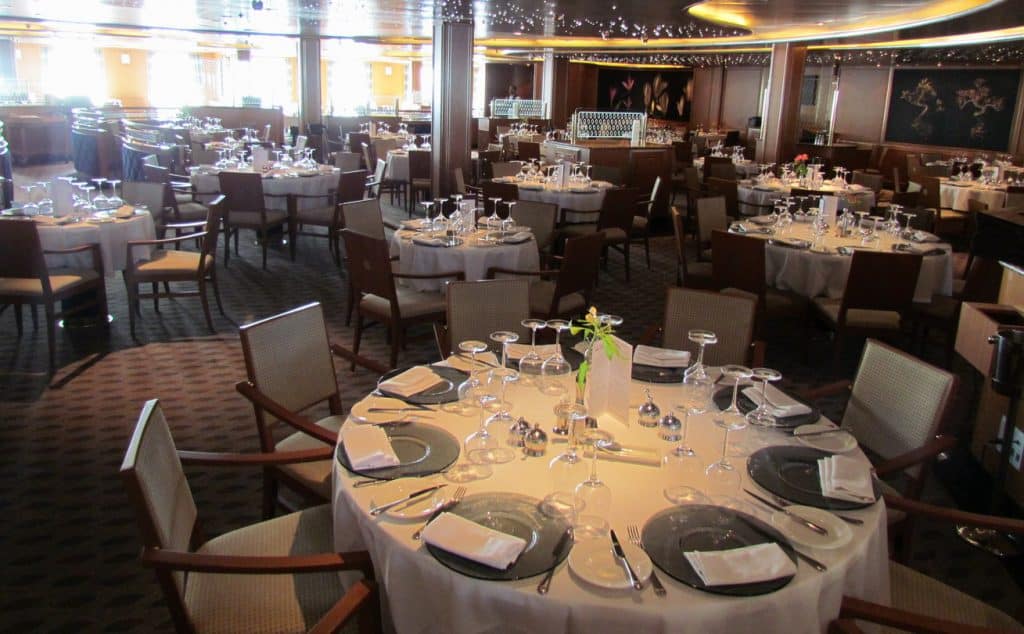 Tips
Tips are covered in another section, but it's worth mentioning here that we never had to worry about tipping. In fact, there was no tipping until the very end of the cruise. So there was no wondering how much to tip, and when.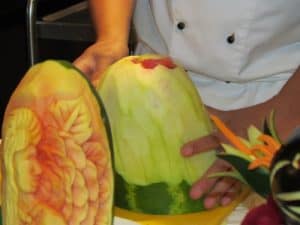 For the room service, someone suggested a small tip of one or two pounds or dollars (in real money rather than via the charge card) when the food was brought to the cabin. We did that and it seemed to be appreciated by the waiter.
All Inclusive?
Except for the cover charge for the speciality restaurant (and the cost of any extras such as drinks, ice cream, and snacks from the cafes and bars, etc.) all the food was included in the price we had paid for the cruise.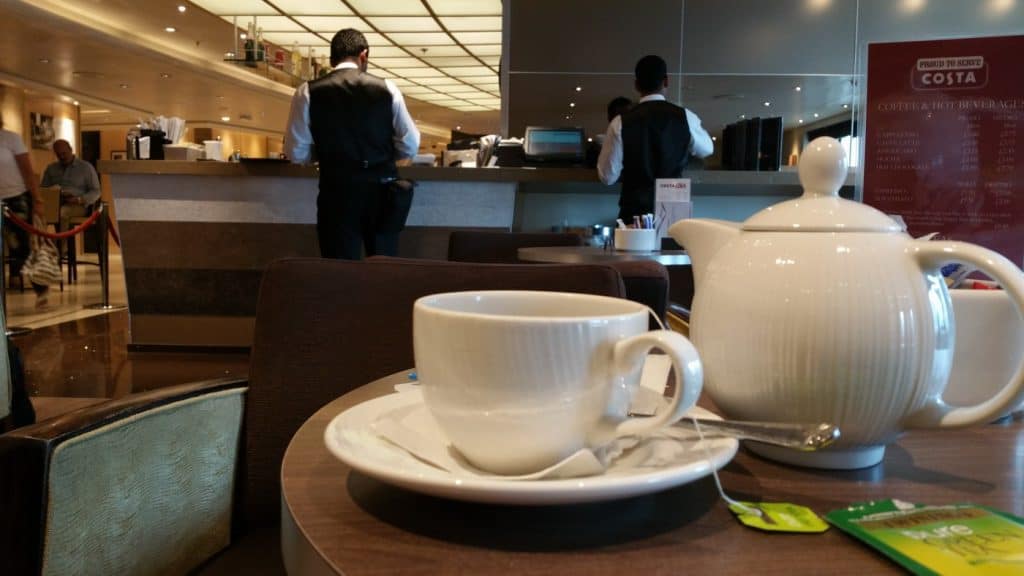 For us, the whole dining experience was incredible. Now we can understand why people choose to go on a cruise for the dining alone.
Dining on a Small Cruise Ship
So far, the dining experience we've described has been with P&O.
In March 2015, we sailed with a different cruise company, Hurtigruten, on a cruise along the coast of Norway.  
It was a smaller ship – and it had only one restaurant.
Breakfast and lunches were buffet style with a lovely selection of fish, meat, vegetables and salad. Everything was to a high standard.
Dinner in the evening was fixed at two different times.
We were allocated the second sitting of 8:30 pm but were able to change that to 6:30 pm by asking the restaurant manager.
There was no "freedom dining" option available on this smaller ship. So we were allocated a table.
And the menus were set too.
But every evening the food was exceptional, as you'd expect from a Scandinavian company.
We dined with some great people and enjoyed wonderful conversation over delicious food whilst watching the amazing scenery pass by the window.
The Amazing Food on a Cruise
But are the drinks free on a cruise?