In March 2019, the Viking Sky Cruise Ship ran into serious trouble in treacherous icy cold waters.
Freak weather had combined with engine failures, which caused the Viking Sky to drift dangerously towards the rocky Norwegian coast.
And one question many anxious passengers were probably asking about cruise safety is:
Are there enough lifeboats on a cruise ship?
Listen to this on the podcast…

Listen & subscribe on Apple, Spotify or Anchor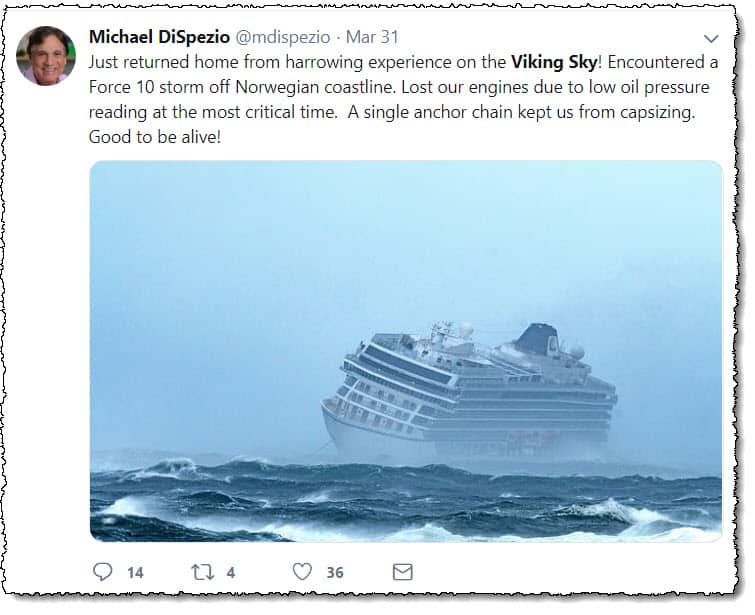 The decision was made to air-lift every single passenger to safety.
So everyone donned a life-jacket and waited for their turn to be rescued.
And as we watched the drama unfolding on the TV News, from the comfort of our own homes, quite understandably many observers went to Google to ask:
Are there sufficient lifeboats on a cruise ship?
So what's the answer?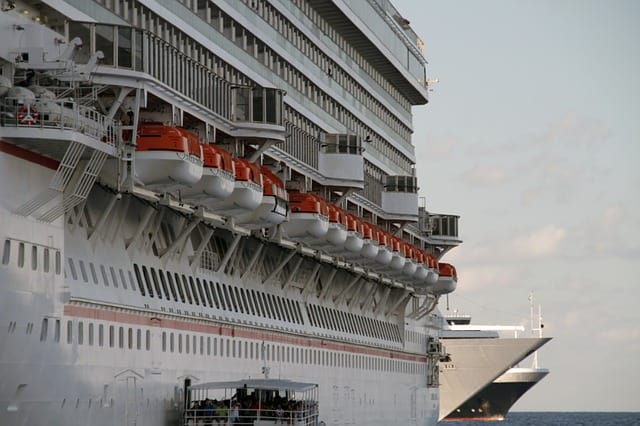 How Many Lifeboats are There on a Cruise Ship?
Here's what the Travellers United Website says:
Regulations require each side of cruise ships have enough lifeboats to accommodate 37.5% of the total number of persons on board (passengers and crew), 75% in total. Inflatable or rigid liferafts must accommodate the remaining 25% of passengers and crew. (SOLAS, Section II, Regulation 21, 1.1)
From that, it appears that everyone is catered for.
But not necessarily in a lifeboat.
"Inflatable or rigid life rafts" take care of those who don't get a space in a lifeboat.
LifeBoats on Huge Cruise Ships
Normally, a lifeboat accommodates 150 people.
As cruise ships get larger, cruise companies must look at other ways to address the lifeboat capacity problem.
One company has done that by designing a much bigger 370-person lifeboat.
But does it resolve the problem?
Jim Walker's Cruise Law News discusses how 8,500 passengers could be evacuated safely from one of the world's largest cruise liners, Oasis of the Seas. The ship has 18 of those 370-passenger lifeboats. But that's only capacity for only 6,660 people. So life rafts – connected by a series of shutes – cater for the remainder.
LifeBoats on Mid-Sized Cruise Ships
I checked out the Arcadia, a mid-sized ship.
The TravelWeekly website says that Arcadia has capacity for 2,388 passengers and 869 crew.
That's 3257 people on board.
Here's what it says about lifeboats on the ship's own stats page:
18 lifeboats which can carry up to 150 people each

46 life rafts which can carry up to 35 people each

2 fast rescue craft
A few button presses on the calculator tells me…
There are enough lifeboats for 2700 of those 3257 people.

Life rafts can cater for 1610
So everyone is catered for in either a lifeboat or a life raft – in similar proportions to how the mega-ships appear to be.
But something very interesting, and rather reassuring, is another statement on their website:
There is usually no more than 2016 guests and 820 crew members on board.
So if 2836 is usually the maximum number of people on the ship, then only 136 of those will need to use a life raft instead of a lifeboat. 
What These Lifeboat Numbers Mean To Us
What this means to me is that there is enough safety equipment on a cruise ship – when we combine the number of lifeboats with life rafts. 
In warm Caribbean waters, I don't think I'd mind a life raft.
But in those stormy waters off the rocky coast of Norway, a sturdy covered-lifeboat would seem much safer.
In reality, though, how often is a cruise ship booked up to full capacity? None of the cruise ships I've been on has been fully occupied.
So I'll continue to trust the people who make the calculations – and the professionalism of the crew who know exactly what to do in an emergency.
If you've ever been on a cruise, you'll know what I mean about those endless lifeboats and safety drills the crew have to endure.
Let's hope they never need to put that into practice in real-life.
But if they do, we're well looked after.
Are There Enough Life Jackets on a Cruise Ship?
Here's an article I wrote about lifejackets which I think you'll find interesting.
More Cruise Tips and Stories
You can get our free weekly emails with our own cruise tips and stories.