Are There Sufficient Life Jackets on a Cruise Ship?
In a word…
Yes.
Actually, it's a great question – because if you haven't been on a cruise before, you'll probably want a lot of reassurance about safety.
After all, I bet you watched the Titanic film, didn't you?
How Many Life Jackets Are There on a Cruise Ship?
In the 21st-century world of cruising, all cruise ships need to carry enough safety equipment to support all their guests. 
And to support the crew, too (hey – can't forget the crew!).
Here's how it works on a typical cruise ship:
Each cabin contains the exact number of life jackets for all its occupants.
Hey! So no stowaways in your cabin, please, 'cos there won't be enough life jackets for you all.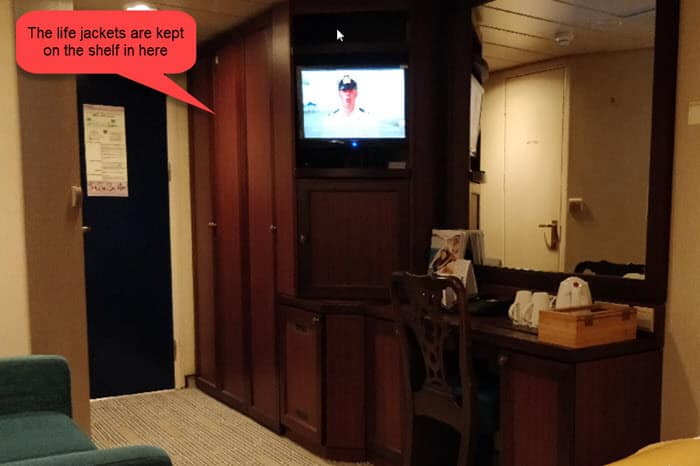 But What if I Can't Get to my Cabin to Collect my Life Jacket?
Great question!
They've already thought of that.
They put additional life jackets near the muster station.
From reading some cruise forums, it appears that some cruise companies choose to place all their life jackets at the muster stations rather than inside the cabins.
But that seems to be a very small number of cruise ships.
And you'll certainly find out where the life jackets are situated during the compulsory drill (more about that in a mo).
Are There Life Jackets For All Age Groups?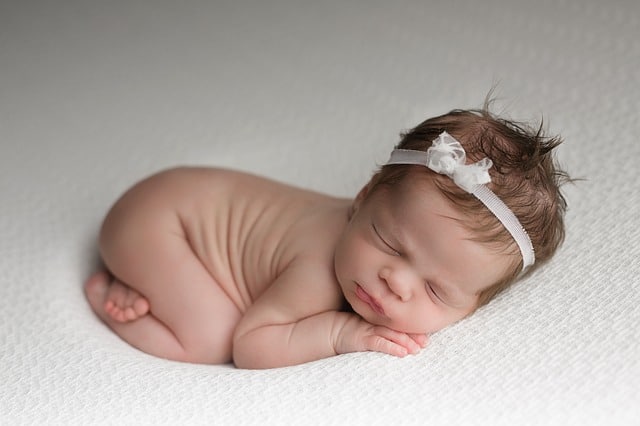 Great question!
After all, you can't expect a baby to fit into a full-sized adult life jacket.
And the answer is yes – the major cruise companies carry life jackets for all age groups.
One thing to be aware of, though, is many cruise lines will only allow you to bring babies aged over 6 months (or over 12 months on some routes).
Can I Try On My Life Jacket?
Actually, you'll probably be expected to put it on before the ship sets sail.
Don't worry! Not permanently, though! Just as part of a drill.
On every cruise we've been on, we've had to attend a muster station drill.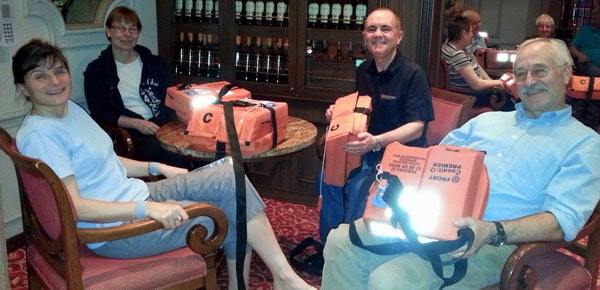 Muster Station Drill
Before the ship begins the cruise, you'll have to attend a muster station drill.
Actually, I believe that by law this safety drill must be conducted within 24 hours of departure – but since the Costa Concordia disaster, most cruise companies have chosen do it before the ship sets sail.
This is what happens:
You'll hear the ship's alarm signal (don't worry, you'll have been told it's only a practice).
Wherever you are on the ship, you'll go to your cabin to collect your life jacket – and any medication you need (I told you they take these practices seriously). 
Then you'll head towards your pre-assigned muster station, carrying your life jacket (they don't want you to wear it yet 'cos everyone would start playing Mr Blobby games).
When everyone's assembled at the muster station, you'll listen to some safety announcements from the captain (don't worry, there'll be places to sit down).
And then, after you've watched the crew demonstrate how to don the life jackets, you'll have lots of fun putting yours on and observing some of your fellow passengers treating them like an impossible Rubix Cube (there's usually at least one person – listen for the laughter).
A few people will decide to blow the bright orange plastic whistle they've just found hanging by a cord from their life jacket (I hope the previous person to do that didn't have any nasty bugs!).
And others will switch on the flashing light (I must admit to doing that once).
Eventually, you'll be asked to remove your life jacket, the muster station drill will be over, and you'll be released to follow everyone back up the staircase whilst sharing jokes with new friends about carrying these bulky bright orange lifejackets.
Back in your cabin, the life jacket will go safely back onto its shelf – in the hope that no one will never need it.
But if you do happen to need a life jacket…
Now you'll know exactly where it is

Now you'll know how to put it on securely

Now you'll know how to get to your muster station

Now you'll know where you can find other life jackets in case you can't get to your cabin
Thankfully, safety is paramount on cruise ships…
Because Costa Concordia taught us we can't afford for it not to be.
If you're a bit of a geek about life jackets, or you want a bit more reassurance, here's a helpful document: Everything You Ever Wanted to Know About Life Jackets on Ships.
Convinced There are Enough Life Jackets?
Is that enough reassurance?
Are you ready to book a cruise? 
Go on – hop over here for our top tips to begin planning your cruise.