In March 2019, we drove across the M62 to Hull to join the P&O mini cruise to Amsterdam.
It was a break my wife and I were looking forward to.
See Amsterdam

Get away from it all for a couple of days

Enjoy the experience
So how did it go? Did the mini-cruise meet expectations? Was it cheap or expensive?
Here's my independent cruise review of our experience…

Watch our video review of the Hull to Amsterdam Mini-Cruise
Parking at the Hull P&O Terminal
So let's be practical. What about parking? 
It's a pay and display car park, right by the P&O terminal – which is very handy. The staff advised us to leave our car in the multi-storey car park. They told us that this particular car park is locked overnight, whereas the outside tarmac car park isn't.
Time to pay for the parking. It's £8 per day – so we came prepared with 16 pound-coins. But no worries if you turn up with no change – the machine will take cards too.
Check-in was pretty straight-forward, and soon we were heading up the ramp with the other passengers to embark the "Pride of Hull".
An Inside Cabin on The Pride of Hull
So what's the cabin like?
At check-in, they'd given us a paper/card type of e-key, so we went to take a look and drop off our luggage.
Our package included a basic inside cabin with 2 bunk beds. The top bunk swings down.
There's no need to upgrade. This cabin had all the comforts. And a nice, clean bathroom with a shower.
Time to explore the rest of the ship…
Exploring The Pride of Hull Ship
The Pride of Hull contains all the usual things you'd expect on a cruise ship, such as a shop, restaurants, a wine bar and pub with entertainment.
Even a Starbucks coffee shop.
When we boarded, it was still very early, so we hadn't set sail and most things were still closed.
On the top deck, the Skylounge Bar has the benefit of a nice view – and smart tables and chairs. This bar could almost be mistaken for a cruise ship.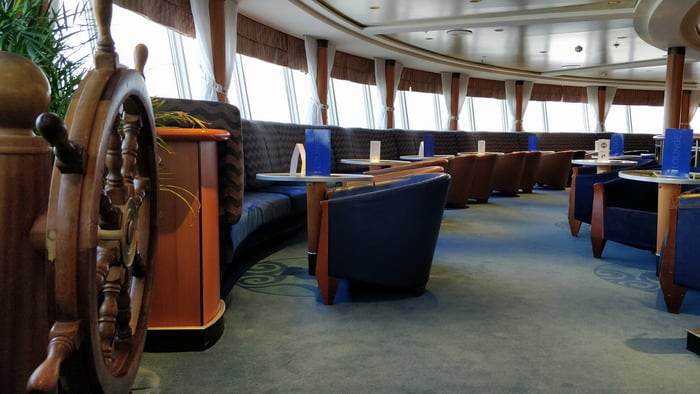 In the evening, this Skylounge Bar hosts the more laid-back sort of entertainment. We discovered the price of a bottle of wine was rather more expensive than in the wine bar downstairs.
But for now… it was time to buy a cuppa before heading off to book a table in the restaurant.
The Restaurants on the Pride of Hull
For our evening meal, we chose the Brasserie.
The food was delicious and the service great.
But we could have chosen what they call "The Kitchen", where, for a set price, you can eat as much as you want.
The Wine Bar
In the wine bar, it cost us £14 for a bottle of house wine.
As wine wine-bar prices go, that's not bad – especially for a captive audience. Upstairs in the Skylounge bar, that would have cost us about £18.
Off to Amsterdam
The next day, at 0900 we disembarked, went through the customs checks and hopped onto one of the coaches waiting outside the terminal.
Our coach was clearly labelled "Amsterdam".
With the heavy traffic, the ride into Amsterdam took around 90 minutes. And as we left the bus, the driver told us the times of the various buses going back.
It was easy to spot the buses with the "P&O" label on the front.
So what's Amsterdam like?
What to do in Amsterdam
The rain put a bit of a dampener on it for us. But we couldn't let that spoil our day.
So first things first, we sought out the herring seller and bought a rollmop. That was the first thing ticked off the to-do list.
Bikes and boats are everywhere. Not surprising as it's flat and full of canals.
Want a museum?
Well, the cheese museum is great. Lots of samples of delicious Dutch cheeses to savour, too.
And then there's the tulip museum.
And… a cow museum.
And a museum celebrating the cause of the strange smell you'll discover as you walk Amsterdam's streets. Yes, a cannabis museum.
If you want to visit Anne Frank's house, you'd better book your ticket online, months in advance. We didn't, so all we got was a picture at the front door – as did lots of other people.
There are many other things to see, such as the Westerkirk.
And quaint places to shop.
You can see all these on the video we made.
And finally, we took a last look at the canals, bikes and boats, before heading back to the coach for the journey back to the ship.
Going Back from Amsterdam
Back at the port, we got off the coach, through customs again, up the escalators, along the ramp, and got ready for another evening's entertainment.
The wine bar was popular.
Near to the source of the entertainment, the volume of the music was quite loud. But there are a few corners where you can hold a conversation yet still hear the music.
There's also a "quiet room" on board if music isn't your thing.
Upstairs in the Skylounge Bar, there was more laid-back entertainment with a singer with an acoustic guitar. However, that was amplified loud, too, and there were no corners to sit and chat.
Eventually, we hit the sack and awoke in time for breakfast, before docking, disembarking, queuing through customs, and being reunited with our car.
Now, all we had to do was try to remember which storey we'd parked on.
Our Video Review of the P&O Mini Cruise to Amsterdam
We made a video of the whole of the mini-cruise – from beginning to end. 
A movie-star at last!

Watch our video review of the Hull to Amsterdam Mini-Cruise
How Much is the Amsterdam Mini-Cruise?
Our P&O Hull to Amsterdam Mini-Cruise was great value for money.
It cost £80 for the two of us. Yes, you read that right – £40 each.
But in peak season, you can expect to pay much more.
Unlike a normal cruise, this is actually a ferry – albeit a very smart-looking ferry.
And, unlike a normal cruise, food isn't included. So you need to budget for your food and drink.
Accommodation and entertainment were included in our £80 price tag.
So we thought it was excellent value.
If you want a day in Amsterdam and two nights of entertainment at sea, this could be the perfect bargain break.
How to Get The Bargain Price
I'd recommend you aim to go early in the season (you know, the unpopular times when no one else wants to go and it's cheaper). 

Play around with various days – because prices can differ. 

And then book it before the price changes. 

Make sure to go through a Cashback website to get some cash back. Here's how to do that.

Remember to get yourselves some travel insurance.

And then look forward to enjoying your mini-cruise.
Weekly Cruise Tips and Stories
Here's where you can download our free cruise guide and receive our popular weekly emails with lots of cruise information and stories.