What's the difference between a cruise on a P&O cruise ship and on a Hurtigruten cruise ship?
Which has better entertainment?

What about the food? 

Where do their ships go?

Do I have to dress up formally on both of them?
My wife and I have been on one Hurtigruten cruise and five P&O cruises.
So which did we prefer?
Let me share some of our personal observations, our thoughts, and opinions…

Two Cruise Companies: Two Nations
First, let's briefly compare some basic facts and styles of the two companies.
Hurtigruten is a Norwegian company. P&O has British characteristics. So the styles on board their ships reflects this.
We sailed on the Hurtigruten MS Finnmarken which has capacity for 1000 passengers.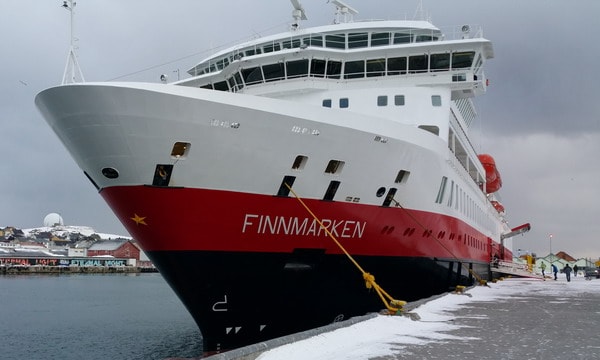 Our P&O experience varied from the Adonia (710 passengers) to the Azura (3100 passengers).
Dining
On P&O, we could enjoy our breakfast and lunch in either a buffet restaurant or in a waiter-served restaurant.
Hurtigruten offered only a buffet breakfast and lunch.
But as you'd expect on a cruise, the standard of food on both was top-class.
Dinner on P&O could be set-dining (same time, same place, with the same people every evening) or freedom-dining – depending which had been chosen or allocated before the cruise.
There was always a good choice on the menu. And it changed each day.
For a special occasion, on P&O, you could choose to pay a supplement to upgrade to a specialist restaurant for the evening.
We always found the quality and standard of food to be high. And the speciality restaurants took it to a whole new level.
Hurtigruten had one restaurant and was waiter-served only. Same time, same place every evening. And it was a set menu.
You'd expect that to be limiting or boring. But far from it – the food and the service were exceptional. 
And, as on P&O, the menu changed each day on Hurtigruten's ship.
As part of our cruise deal, we had Hurtigruten's wine package, so each evening the wine waiter presented us with a bottle of wine which had been perfectly chosen to match the meal.
Entertainment
On P&O, there are theatres and other entertainment venues to watch musicals, listen to comedians, and enjoy lectures. Or you can sit and listen to resident musicians. Lots to do. Lots to see. Fancy a Galley Tour? Or a gym workout?
On Hurtigruten, there was none of that. Instead, we enjoyed a drink in the bar with friends we met on the cruise. Or we sat and read a book whilst we watched the amazingly beautiful Norwegian landscape go by, the hills and mountains turning whiter with snow as we ventured further north.
Perhaps I'd describe our Hurtigruten experience as quieter and less flashy than P&O.
Something distinctive about the Hurtigruten cruise was at the point when we crossed the Arctic Circle, when all the passengers were invited on deck to participate in a traditional ritual involving ice down their back.
P&O have their sail-away parties.
It's great to feel patriotic, waving your union flag, with a glass of wine or beer in hand, and singing "Land of Hope and Glory"… or even "Making your mind up".
They know how to put on a show.
And, of course, both P&O and Hurtigruten have their shops!
Cruise WiFi
On the Hurtigruten cruise ship, the wifi was complimentary.
Perhaps that's because they could get a local 4G signal. At times it was very slow – but at least it was free.
Wifi on P&O is rather expensive.
Dress Code
On P&O, some nights were formal dress (usually 4 nights on a 14-day cruise). That's when everyone dressed up in dinners jackets and posh frocks. The remaining nights were smart casual.
On Hurtigruten, the dress code for dinner every night was smart casual.
Ports of Call
P&O took us to some lovely places. When we went to the Caribbean, we would enjoy breakfast overlooking a new Caribbean island each day, then we'd disembark, browse the local shops, enjoy maybe a tour, explore the town or a walk to the beach, and later return to the ship for the pre-determined time.
Hurtigruten did the same. Granted, Norway in March was colder – but equally as beautiful. The planned ports of call were lovely places. However, there was something very different about the way Hurtigruten did things. Besides being the "floating hotel" you'd expect from a cruise ship, it's also a service ship. 
What does that mean?
Well, our ship delivered the mail to remote islands. So when we discovered our ship was planning to dock in some harbour of a tiny village on a remote island for 15 minutes, we would don our winter woollies and snow boots, and spend a memorable 10 to 15 minutes exploring a beautiful snow-covered village or town.
That's what memories are made of.
Both P&O and Hurtigruten offered organised trips at a premium. We've experienced excursions with both companies. If you want to go somewhere and play it safe so that the ship doesn't leave port without you if you don't get back on time, it's better to book through the cruise company – even though you pay a bit more. We found the organised excursions to be good, even if a bit pricey.
Languages & Culture
Because P&O is a British company which caters mostly for British people, we've only ever heard announcements in English. The entertainment is in English and is typically British. The food is British but incorporates the local delicacies. I love the local fresh fruit at breakfast time.
On the Hurtigruten ship, announcements were in Norwegian, English and German to cater for the three main nationalities on board. Maybe that's why they don't bother with lots of entertainment. Being a Norwegian ship meant delicious fresh fish on the buffet… so glad I love fish. 
The staff and passengers on both ships were warm and friendly. Of course, you always get the occasional moaner or loud person. But that can happen anywhere – on any holiday.
Conclusions
So which do prefer, David? Hurtigruten or P&O? Which is better?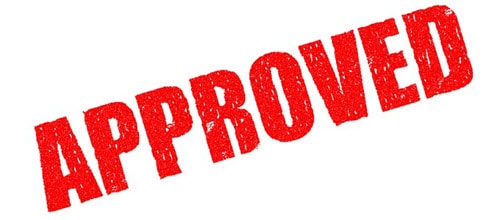 Well, we've been on five P&O cruises. But only one Hurtigruten cruise. So does that mean we prefer P&O?
Not necessarily.
There seems to be fewer bargains to be found with Hurtigruten.
Maybe that's because Hurtigruten cruises are a bit more specialised.
We like the wide range of entertainment that's available on a P&O cruise. The many lounges means that there's always the choice to sit down in a comfortable chair with a good book instead.

On the larger P&O ships such as Azura, we like the large spaces to explore, and lots of interesting people to meet.
On Hurtigruten, we loved the extra port calls in the tiny villages. And we loved the uncrowded ship and the friendships we formed.
Also, being alongside Norwegian people – some of whom were going about their daily lives and using the ship to move from one part of the country to another – gave us a feeling that we were "living with the locals". That's something you don't get with most cruise lines.
The two cruise companies are so different, it's difficult to choose. In the end, it's probably down to the style you're looking for.
But hopefully, you have enough information to decide which style suits you. 
I'd love to know which one you choose. When you decide, please write something in the comments below and let us know.
Diaries From Hurtigruten and P&O Cruise Ships
Whenever we're on a cruise, I take the opportunity to write something for our Cruise Chat emails. If you want to receive these free weekly emails, you'll get the benefit of beginning at week 1 – which means that you can read about my thoughts, observations and impressions about cruising every week.
Of course, we're not on cruises all the time (I wish that was the case) so there are lots of the emails which are written at home. So you'll also get many stories and answers to cruise questions.
You can get our free emails here (along with our free cruise guide). 
Remember…
Take your time choosing.
Then enjoy your cruise at leisure.