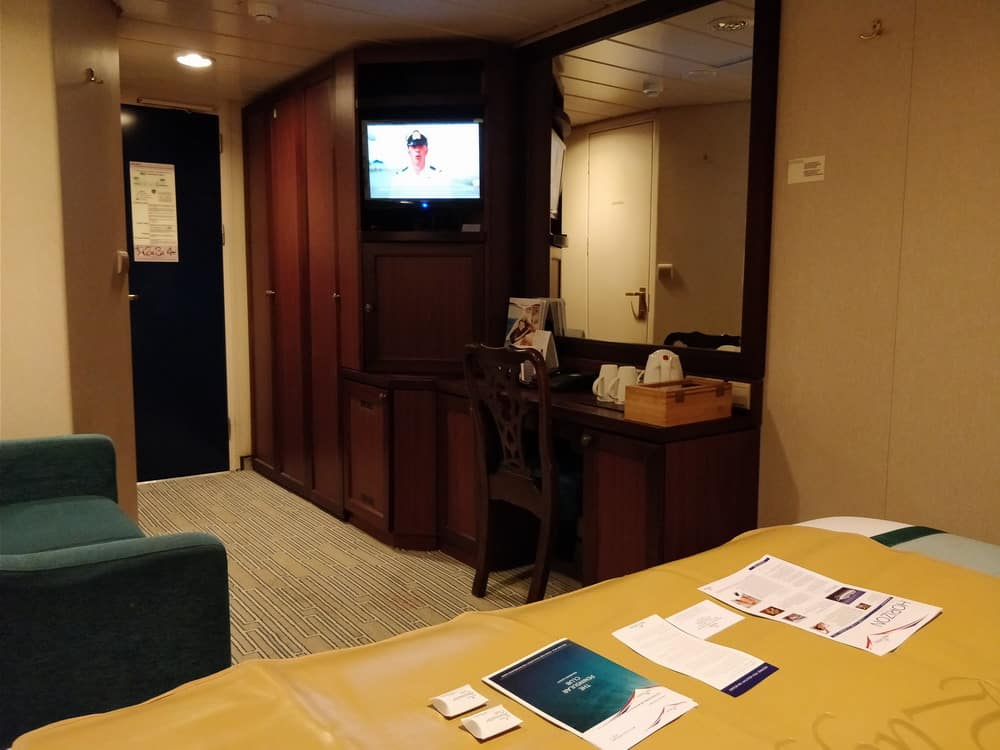 What's the difference between an Inside Cabin and an Outside Cabin on a cruise ship?
In one sentence…
An outside cabin has a view, and an inside cabin is cheaper.
Is that it, David?
In a nutshell, yes. But there's just a bit more to it…
Advantages of an Inside Cabin
It's the cheapest option, which means more cruises for your money

You won't be awoken early in the morning by daylight
Advantages of an Outside Cabin
You have a view through a window

Your cabin is lit by natural light
Of course, there are some disadvantages too. 
An inside cabin has no natural light.
But don't worry – it doesn't appear claustrophobic. Because of the way the cabin is designed, mirrors and artificial light give the inside cabin a larger and pleasant appearance.
An outside cabin has a window which allows natural light in – but it might not provide a good view.
You see… some outside cabins have restricted views.
What can restrict a view?
Perhaps there'll be lifeboat dangling right outside your window. Or some of the ship's structure will obstruct the view.
Or if you're right at the front of the ship, you'll have to stare down a tube and through a port-hole.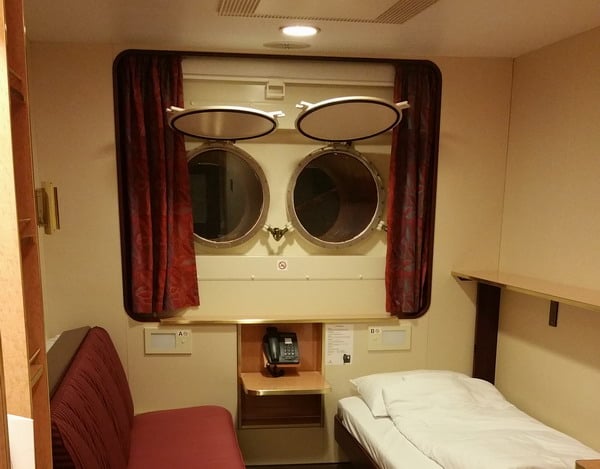 But restricted-view outside cabins are usually cheaper than those outside cabins with a clear view. So you can have the benefit of natural light without breaking the bank.
So Which Cabin is Best on a Cruise? Inside or Outside Cabin?
If cost is important, I'd pick an inside cabin. 
An inside cabin is usually our first choice because…
We'd rather go on two cruises than splash out on one fancy cabin

We don't spend enough time in our cabin to justify upgrading to one with a view
But if you like to spend time in your cabin and enjoy the view from there – or you simply prefer natural light –  maybe an outside cabin will suit you better.
But remember… if clear views over the sea or land are more important than just natural light entering your cabin, you'll need to dig a bit deeper into your pocket.
Or hope they'll give you an upgrade.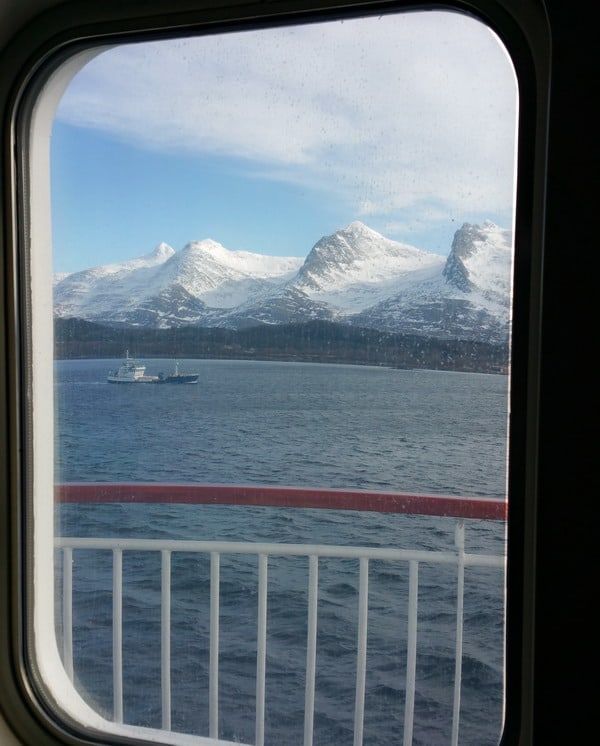 How Much More Does an Outside Cabin Cost than an Inside Cabin?
Ooh! That's a tough question, because it depends on many factors – such as…
The cruise company

The destination (how much there's to see through your window)

The cruise duration
But for a two-week cruise, you can typically expect to pay anything between £150 to £800 per person extra to have that window.
A Balcony Cabin
One last thing to consider…
Despite the name sounding like you can access the outside of the ship from your cabin, an outside cabin doesn't have such a facility.
To get outside to the fresh air, you'll need a Balcony Cabin… and they're even more expensive!
The only time we've chosen a Balcony Cabin was on our very first cruise – back in 2012 – to celebrate our Silver Wedding Anniversary.
Hey – sorry to introduce another type of cabin into the equation.
But if you're still undecided, we've written more about which is the best cabin on a cruise and how to choose your cabin.
Get this right, and you'll get your cruise off to a great start!
Your First Cruise
If you're still thinking about your first cruise, please feel free to download our Cruise Guide.
We wrote it ourselves, and it's straightforward and to the point with basic cruise information.
We'd also love to send you our weekly cruise emails. They're written specifically for people thinking about their first cruise, with helpful information, personal stories and ideas. And in one of the emails, we share how we received that upgrade to the outside cabin with the great view.