THEY ALMOST PAID US TO GO ON THEIR CRUISE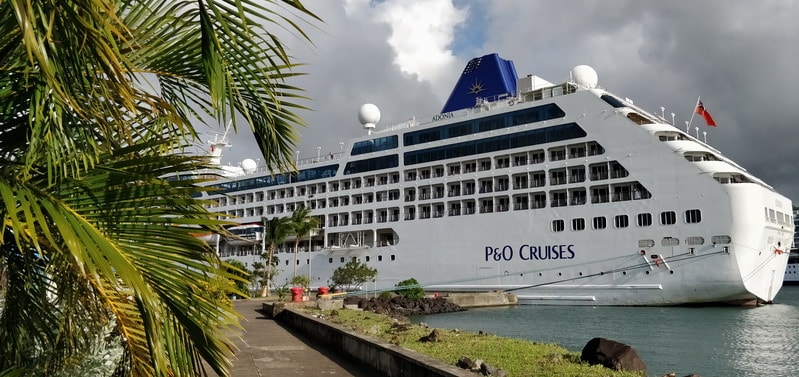 It's great when you get a good deal on your cruise.
And it's an even bigger bonus when the cruise companies throw in a few extras!
"Extras? What extras, David?" I hear you ask.
The Bargain Cruise
First of all, we snapped up the last-minute 14-day fly-cruise in the Caribbean for £999 each.
Now if you've never been on a cruise, that might sound like a lot.
But when you consider that all the meals (and you're talking here about quality dining, served by attentive waiters) are included in the price.

Plus a range of entertainment, such as shows and lectures, to choose from.
And of course, your stateroom (with the bed made and room cleaned every day, and the bed turned down at the end of the day).
Oh… and two flights across the Atlantic on a Virgin Atlantic plane.
With all that included… it's a jolly good price!
Try getting a quality holiday in the sun in the Caribbean with all that included, for a similar price.
Anyway… we were rather chuffed that we'd bagged the bargain.
Granted, it was the cheapest grade of inside cabin.
But we discovered they'd given us a better cabin – above the grade we'd paid for.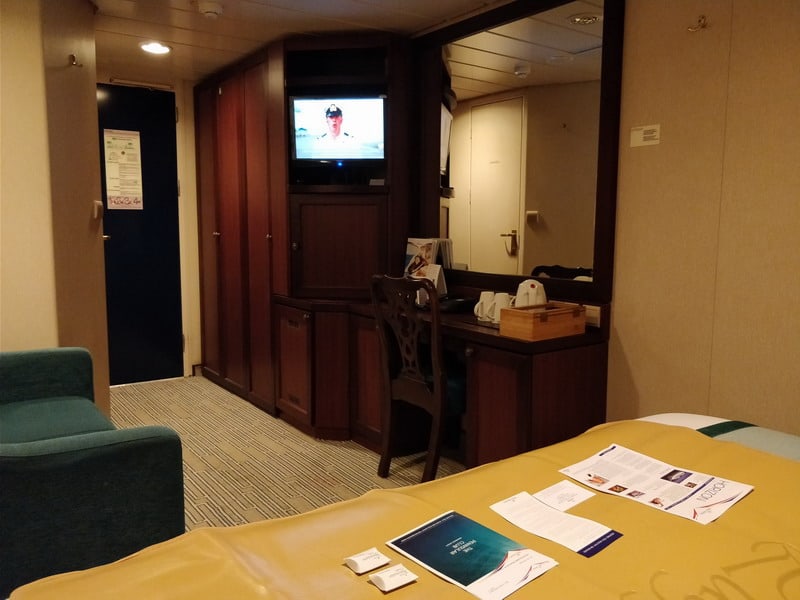 "Here's Some Spending Money!"
The next thing we received was £150 of free onboard credit to spend on the ship.
"Whoa… Hang on David. How did you get that.?"
And anyone can do the same.
We got the onboard credit simply because we'd bought 100 Carnival shares a few years ago (Carnival is the parent company of P&O, the company we booked our cruise with).
And one of the benefits of being a shareholder is some free onboard credit, on any cruise within the Carnival Group.
"Want Some Discounts Too?"
Then, we had a pleasant surprise.
We discovered we'd collected enough points from previous cruises and had reached the "Atlantic" level of the Peninsular club (that's the club they put you in when you start cruising with P&O).
Now, these points aren't like Nectar or Tesco points: you can't spend them.
But what it meant was this:
In this new tier, we would receive a 7.5% discount on anything we spent onboard.
A nice saving – especially on the two excursions we booked (excursions booked through the cruise ship might be more secure, but they don't come cheap).
It also included drinks, and anything from the onboard shops.
That's exactly what we said – because both of those bonuses made a nice difference on the statement at the end of the cruise.
The credit card didn't take a battering.
In fact, it breathed a sigh of relief.
Now if all those aren't good reasons to see a cruise as great value for an incredible holiday…
You haven't heard the best bit…
They Gave Us Some Cash Back
We booked our cruise through a cashback website.
So we got some cash back!
"Huh? What are cashback websites, David?"
They're websites like Quidco and TopCashBack – which pay you back an agreed percentage of the price of the item you buy.
So when we booked the cruise, Quidco gave us a juicy 3% cashback.
It was my own silly fault – but if I'd checked TopCashBack before jumping for joy and booking, we'd have got 4% back instead. But, as the saying goes, you live and learn.
We'll have to wait a few weeks for the cashback to be verified and added to our account – but who cares about that when it's free?
If you want to check them out, here are my refer-a-friend links (disclosure: they'll credit me with a few pounds – it varies but it's usually around a fiver – whenever anyone joins and begins getting cashback; but that doesn't affect your cashback at all).
Over To You
So when you book your cruise, why not see what bonuses you could make use of.
Last-minute deals… shares benefits… points… loyalty bonuses… cashback…
They're just a few more reasons to enjoy a relaxing cruise.
What cruise money-saving tips do you have?
Why not share them in the comments box below, and let's keep the conversation going…