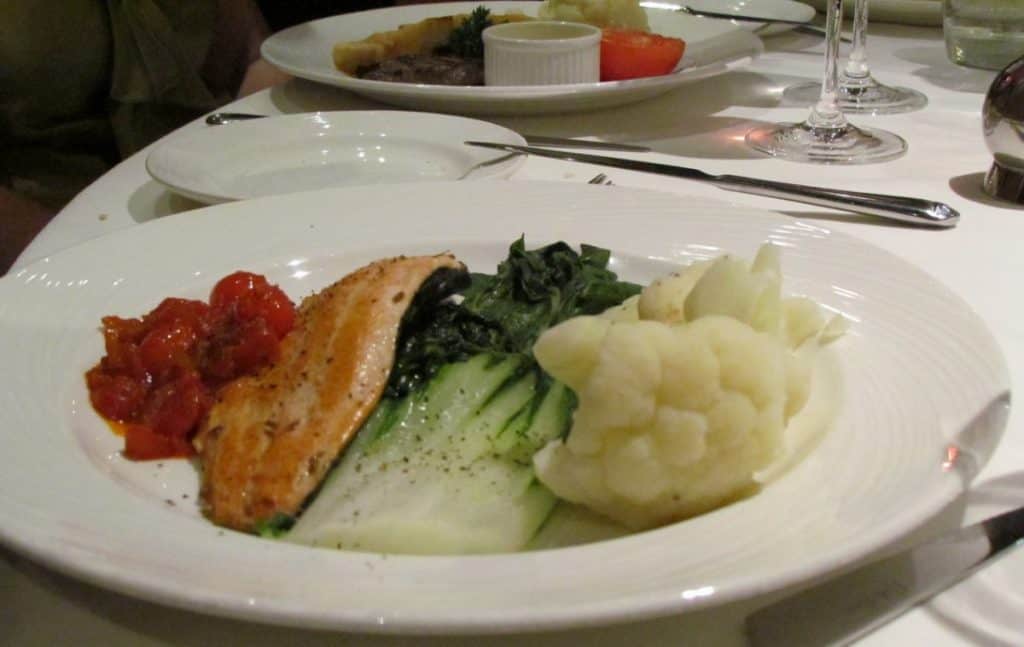 Meals are included in your cruise.
You'll have a really nice breakfast, lunch and dinner.
On some cruise ships, you can even pay a small surcharge and upgrade to a speciality restaurant for the evening if you want to celebrate a special occasion.
That's what's so good about cruise-life!
Drinks on a Cruise
Usually, you'll have to buy your own drinks.
Now when I say buy your own drinks, I don't mean you have to buy a cup of tea with your meal.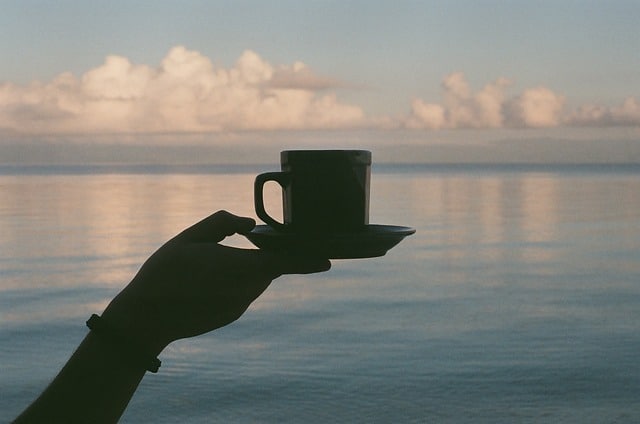 They're not that stingy.
Of course, you'll get your brew! What would we do without our caffeine fix?
And if you prefer speciality tea and coffee, don't worry. You can usually buy those for a similar price to your favourite coffee shop.
Alcoholic Drinks on a Cruise
But when it comes to alcoholic drinks, usually you'll have to buy those, I'm afraid.
Unless… you have an all-inclusive cruise ticket. Some cruise companies offer these.
Usually, an all-inclusive ticket is a bit more expensive than the normal ticket prices.
But sometimes a cruise line will offer an all-inclusive package upgrade to attract early-bird bookings or to fill up a less-popular cruise.
Also, some cruises will sell you a drinks package. This add-on allows you to pre-purchase your drinks, usually at a discounted price.
Hey – why not be cheeky and ask your travel agent to throw in a drinks package for free. You can only ask, can't you?
Check out this book, The Intelligent Cruiser, if you're looking to get freebies on a cruise.
On one particular cruise, the travel agent threw in a wine package to attract us.
So we had a different bottle of wine each evening to match the meal.
Which Cruise Companies Offer All-Inclusive Cruise Deals?
Many cruises will offer them. You could start off by checking out…
Fred Olsen

Royal Caribbean

Celebrity

Norwegian

MSC
My Personal Thoughts on All-Inclusive
This is how I look at it…
The main thing is to enjoy the food.
Dining is normally top class on a cruise – and, of course, it's included in the price.
If drinks are included, I treat it as a bonus.
But just remember to watch out for that chap who takes advantage of free drinks and serenades you with his favourite songs as he returns to his cabin well after midnight.
If you want to receive our weekly emails with more cruise information, tips and stories, just pop your first name and email address into the box and I'll add you onto our list. Oh, and I'll also send you our cruise guide ebook to say thanks for joining us.