What's the Mini Cruise from Hull to Bruges like?
It's a great question.
And one which we wondered about, too.
So what did we do?
We booked a couple of tickets and tried it out.
Hull to Bruges Mini Cruise Review
Because we went in March 2018, just before the Easter holidays began, our tickets cost a mere £43 each.
Yes – £86 for both of us to go on a 2-night cruise.
Now before you get over-excited about that, I must say that it isn't a cruise in the traditional sense.
And here's why:
It's on a ferry, not a cruise ship

Food isn't included in the price

There's no dress code
Is the Bruges Mini Cruise Worth the Money?
Yes, I'd say it was definitely worth the £86.
Why, David?
Three main reasons:
We enjoyed the comfort of our own cabin with bunk-beds.

We were treated to a choice of evening entertainment.

The coach travel from the port of Zeebrugge to Bruges (and back, of course) was included.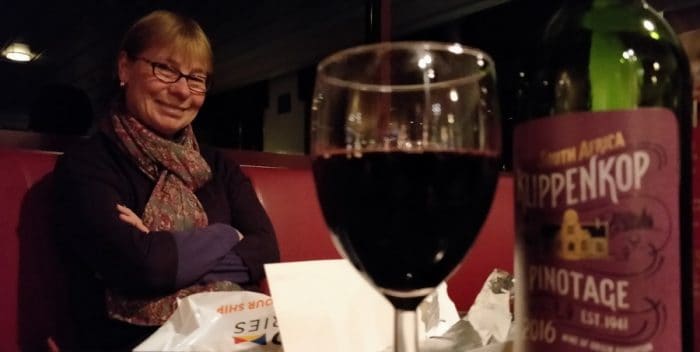 Any Negatives?
If you want peace and quiet, you might not get it.
The cheaper off-season price seemed to attract certain groups.
On our cruise were:
A group of lads; well-lubricated and high spirited. We reckon it was a stag party.

A group of girls; probably a hen-party. They were well behaved, though.

A school group. Chattery, but no problems.

A couple who evidently were there for the booze – their bad language and manners gave them away.
However, some of these people travelled only one way. You see, it's not just a mini-cruise, it's a ferry.
And because it was out of season, the ship wasn't crowded. Therefore, it was quite easy to find a quieter spot away from the crowds. 
So none of these spoiled our mini-cruise. 
But would we go on another?
Yes, we would.
Our Bruges Mini Cruise Video
We made a 4-minute video to give you a guide to what to expect with things such as:
Ship facilities

In Bruges

Getting back to the ship

Entertainment

Even where to park in Hull 
Even Cheaper
One last thing. In the end, we actually paid less than £86.
That's because we went to the P&O Ferries Website through TopCashBack, the cash-back site.
And they gave us 10% cashback. You can't turn that down, can you?
If you want to check them out, here's my refer-a-friend link for TopCashBack. 
What About You?
What's your bargain of the year? 
Ever spent less than £43 each on a cruise?
Pop your comments into the box below, and let's keep this conversation going…